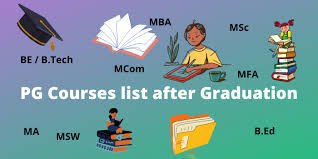 About (PG) Post-graduate Management Courses
Post-graduate management courses are advanced academic programs that provide in-depth knowledge and specialized skills in the field of management. These courses are designed for individuals who have completed their undergraduate studies and are seeking to enhance their understanding of business principles, develop advanced managerial skills, and pursue leadership roles in various industries.
PG management courses, such as Master of Business Administration (MBA) or specialized master's programs, offer a comprehensive curriculum that covers a wide range of subjects including finance, marketing, human resources, operations, strategy, entrepreneurship, and leadership. The coursework combines theoretical concepts with practical applications, case studies, and real-world projects to develop critical thinking, problem-solving, and decision-making abilities.
One of the key benefits of pursuing a post-graduate management course is the opportunity for specialization. Students can choose from a variety of elective courses or concentrations that align with their career interests and goals. Specializations can range from finance, marketing, and human resources to entrepreneurship, supply chain management, and data analytics.
PG management courses also provide networking opportunities, as students often interact with experienced professionals, alumni, and industry experts. They may also engage in internships, industry projects, and guest lectures, which help build connections and gain valuable industry insights.
Upon completion of a post-graduate management course, graduates have a wide range of career opportunities available to them. They can pursue managerial roles in various industries, work in consulting firms, start their own businesses, or explore leadership positions in multinational corporations. The versatility of a post-graduate management qualification enables graduates to adapt to the evolving business landscape and opens doors to diverse career paths.
(PG) Post-graduate Management Courses – Highlights
| | |
| --- | --- |
| Key Highlights | Description |
| Degree Offered | Master's degree (PG) |
| Duration | Typically 1 to 2 years |
| Specializations | Options to specialize in various areas such as finance, marketing, human resources, operations, entrepreneurship, etc. |
| Core Subjects | Business fundamentals, strategy, leadership, finance, marketing, operations, organizational behavior, etc. |
| Practical Approach | Combines theoretical learning with case studies, simulations, industry projects, and internships to develop practical skills |
| Networking Opportunities | Interaction with industry professionals, alumni, guest speakers, and fellow students |
| Global Exposure | Opportunities for international exchange programs, study tours, and exposure to global business practices |
| Leadership Development | Emphasis on developing leadership skills, critical thinking, problem-solving, and decision-making abilities |
| Industry Relevance | Curriculum aligned with current business trends and emerging industry needs |
| Placement Assistance | Support for internships, summer placements, and final placements through dedicated placement cells |
| Alumni Network | Access to a strong alumni network for career guidance, mentorship, and networking |
| Career Opportunities | Wide range of managerial roles in various industries, consulting firms, entrepreneurship, and leadership positions |
| Further Education | Opportunities to pursue advanced degrees like Ph.D. or executive education programs |
Types of PG Management Courses
There are several types of Post-graduate (PG) Management Courses available, each offering specialized knowledge and skills in specific areas of business and management. Here are some common types of PG Management Courses:
Jobs and Salary of Management Graduates
Here is a table highlighting some common job roles and average salary ranges for management graduates in India:
| | |
| --- | --- |
| Job Role | Average Salary Range (per annum) |
| Business Analyst | ₹6,00,000 – ₹12,00,000 |
| Marketing Manager | ₹7,00,000 – ₹18,00,000 |
| Financial Analyst | ₹6,00,000 – ₹14,00,000 |
| Human Resources Manager | ₹8,00,000 – ₹20,00,000 |
| Operations Manager | ₹7,00,000 – ₹16,00,000 |
| Management Consultant | ₹8,00,000 – ₹25,00,000 |
| Sales Manager | ₹6,00,000 – ₹14,00,000 |
| Project Manager | ₹8,00,000 – ₹20,00,000 |
| Supply Chain Manager | ₹7,00,000 – ₹16,00,000 |
| Brand Manager | ₹7,00,000 – ₹18,00,000 |
| Finance Manager | ₹8,00,000 – ₹20,00,000 |
| IT Manager | ₹8,00,000 – ₹18,00,000 |
| Business Development Manager | ₹7,00,000 – ₹18,00,000 |
| Product Manager | ₹8,00,000 – ₹20,00,000 |
| Retail Manager | ₹6,00,000 – ₹14,00,000 |
| Risk Manager | ₹8,00,000 – ₹18,00,000 |
Top Recruiting Companies
Here is a table highlighting some of the top recruiting companies for management graduates in India:
| | |
| --- | --- |
| Company Name | Industry |
| McKinsey & Company | Management Consulting |
| Boston Consulting Group (BCG) | Management Consulting |
| Bain & Company | Management Consulting |
| Hindustan Unilever Limited (HUL) | FMCG (Fast-Moving Consumer Goods) |
| Procter & Gamble (P&G) | FMCG (Fast-Moving Consumer Goods) |
| Tata Consultancy Services (TCS) | Information Technology and Consulting |
| Deloitte | Audit, Consulting, Financial Advisory, and Tax |
| Ernst & Young (EY) | Audit, Consulting, Financial Advisory, and Tax |
| KPMG | Audit, Tax, and Advisory Services |
| Amazon | E-commerce, Technology, and Retail |
| Google | Internet and Technology |
| Microsoft | Technology and Software Development |
| HDFC Bank | Banking and Financial Services |
| ICICI Bank | Banking and Financial Services |
| Reliance Industries | Conglomerate (Retail, Telecommunications, Energy) |
| Aditya Birla Group | Conglomerate (Fashion, Retail, Telecom, Cement) |
| Mahindra & Mahindra | Automotive, Aerospace, Agribusiness, and more |
| Larsen & Toubro (L&T) | Engineering, Construction, and Manufacturing |
| Tata Group | Diversified (Automotive, Steel, Energy, Telecom) |
| ITC Ltd | FMCG, Hotels, Tobacco, and more |