All About MBA
MBA, which stands for Master of Business Administration, is a highly popular postgraduate degree program that focuses on business management and administration. It provides students with a comprehensive understanding of various business functions, including finance, marketing, human resources, operations, and strategy.
The MBA program typically spans 1-2 years and involves a combination of coursework, case studies, projects, internships, and networking opportunities. It aims to develop critical thinking, leadership, analytical, and problem-solving skills, preparing students for managerial and leadership roles in diverse industries.
An MBA degree offers numerous benefits, including enhanced career prospects, higher earning potential, and opportunities for professional growth and networking. It equips students with a broad business perspective, enabling them to make strategic decisions and navigate complex business challenges.
MBA programs are offered by various business schools and universities worldwide, with specialization options in areas such as finance, marketing, entrepreneurship, international business, and more. Admission to MBA programs typically requires a bachelor's degree, work experience, and performance in entrance exams like GMAT or GRE.
Overall, an MBA provides individuals with the knowledge, skills, and credentials necessary to succeed in the dynamic and competitive business world.
Suggested Reading: Master of Business Administration
List of MBA Courses
Here is a list of some popular MBA courses that students can specialize in:
Finance: Focuses on financial management, investment analysis, risk management, and corporate finance.
Marketing: Concentrates on marketing strategies, consumer behavior, market research, branding, and advertising.
Human Resources (HR): Focuses on managing human capital, recruitment, training and development, performance management, and employee relations.
Operations Management: Concentrates on supply chain management, logistics, process optimization, quality control, and operations strategy.
International Business: Focuses on global business practices, cross-cultural management, international marketing, and global trade.
Entrepreneurship: Concentrates on starting and managing new ventures, business planning, opportunity identification, and innovation.
Strategic Management: Focuses on formulating and implementing business strategies, competitive analysis, strategic decision-making, and organizational development.
Information Systems: Concentrates on managing and utilizing information technology in organizations, business intelligence, data analytics, and technology strategy.
Healthcare Management: Focuses on managing healthcare organizations, healthcare policy, healthcare finance, and healthcare operations.
Leadership and Management: Concentrates on developing leadership skills, managing teams, organizational behavior, and change management.
Sustainability and Environmental Management: Focuses on integrating environmental and social responsibility into business practices, sustainable development, and environmental policy.
Entrance Exams for MBA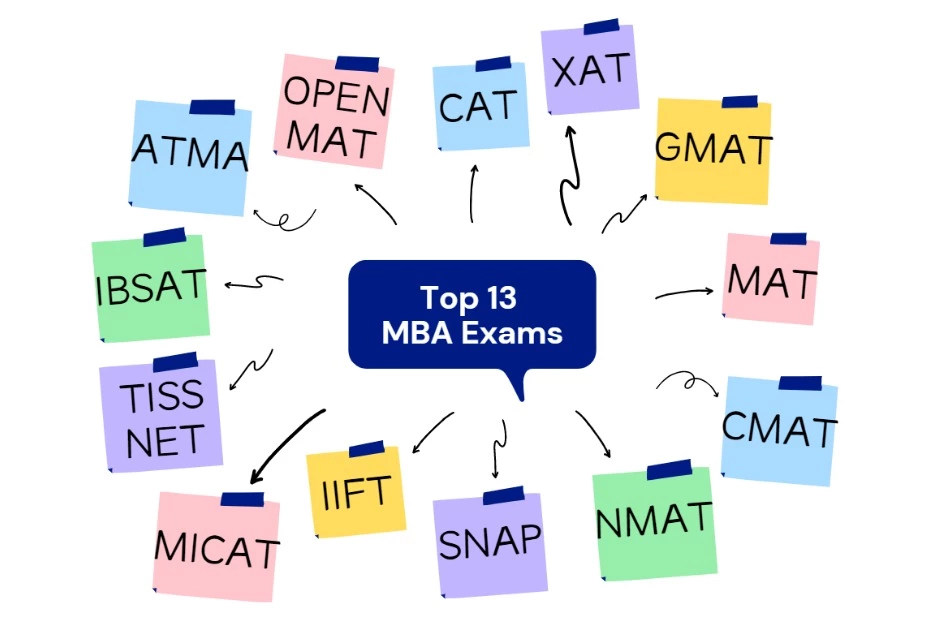 Here is a table listing some of the popular entrance exams for MBA in India:
| | |
| --- | --- |
| Entrance Exam | Conducting Body |
| CAT (Common Admission Test) | Indian Institutes of Management (IIMs) and other participating institutes |
| XAT (Xavier Aptitude Test) | Xavier Association of Management Institutes (XAMI) |
| MAT (Management Aptitude Test) | All India Management Association (AIMA) |
| CMAT (Common Management Admission Test) | National Testing Agency (NTA) |
| SNAP (Symbiosis National Aptitude Test) | Symbiosis International (Deemed University) |
| NMAT by GMAC (NMIMS Management Aptitude Test) | Graduate Management Admission Council (GMAC) |
| IIFT (Indian Institute of Foreign Trade) Entrance Exam | Indian Institute of Foreign Trade |
| TISSNET (TISS National Entrance Test) | Tata Institute of Social Sciences (TISS) |
| IRMASAT (Institute of Rural Management Anand Social Awareness Test) | Institute of Rural Management Anand (IRMA) |
| MICAT (Mudra Institute of Communications, Ahmedabad Admission Test) | Mudra Institute of Communications, Ahmedabad (MICA) |
Tips to Prepare for MBA Entrance Exams
Preparing for MBA entrance exams requires dedication, strategy, and effective study techniques. Here are some tips to help you prepare:
Understand the Exam: Familiarize yourself with the exam pattern, syllabus, and marking scheme of the specific entrance exam you are targeting. This will help you structure your preparation accordingly.
Create a Study Plan: Make a detailed study plan, dividing your time for each section and allocating sufficient time for revision. Stick to your plan and maintain consistency in your study routine.
Practice Previous Year Papers: Solve previous year question papers and sample papers to get a sense of the exam pattern, types of questions, and time management. This will also help you identify your strengths and weaknesses.
Mock Tests: Take regular mock tests to assess your progress and get a feel of the actual exam. Analyze your performance, identify areas for improvement, and work on time management skills.
Focus on Weak Areas: Identify your weak areas and allocate more time and effort to improve them. Seek help from study materials, online resources, or coaching if needed.
Improve Vocabulary and Reading Skills: Enhance your vocabulary by reading newspapers, magazines, and books. This will not only help in the verbal ability section but also improve comprehension skills.
Develop Problem-Solving Skills: Develop strong quantitative and logical reasoning skills through regular practice. Solve mathematical problems, practice data interpretation, and strengthen your analytical thinking abilities.
Stay Updated with Current Affairs: Stay updated with current affairs, both national and international. Read newspapers, watch news channels, and follow relevant websites to stay informed.
Time Management: Learn time management techniques to complete the exam within the given time frame. Practice solving questions quickly and efficiently.
Stay Healthy and Manage Stress: Take care of your physical and mental well-being. Get enough sleep, eat a balanced diet, and engage in regular exercise. Manage stress through relaxation techniques, meditation, or any activity that helps you unwind.
Jobs for MBA Graduates
Here are some job roles for MBA graduates in India, along with their average annual salaries
| | |
| --- | --- |
| Job Role | Average Annual Salary |
| Marketing Manager | 8,00,000 – 15,00,000 |
| Financial Analyst | 6,00,000 – 12,00,000 |
| Human Resources Manager | 7,00,000 – 14,00,000 |
| Operations Manager | 8,00,000 – 15,00,000 |
| Business Development Manager | 7,00,000 – 15,00,000 |
| Management Consultant | 8,00,000 – 18,00,000 |
| Supply Chain Manager | 7,00,000 – 14,00,000 |
| Investment Banker | 10,00,000 – 20,00,000 |
| Data Analyst | 6,00,000 – 12,00,000 |
| Project Manager | 8,00,000 – 18,00,000 |
| Risk Manager | 8,00,000 – 15,00,000 |
| Product Manager | 8,00,000 – 18,00,000 |
| Entrepreneur | Variable |
| International Business Manager | 8,00,000 – 15,00,000 |
| IT Manager | 7,00,000 – 15,00,000 |
| Brand Manager | 6,00,000 – 12,00,000 |
| Corporate Strategy Manager | 8,00,000 – 15,00,000 |
| Sales Manager | 6,00,000 – 12,00,000 |
| Retail Manager | 6,00,000 – 12,00,000 |